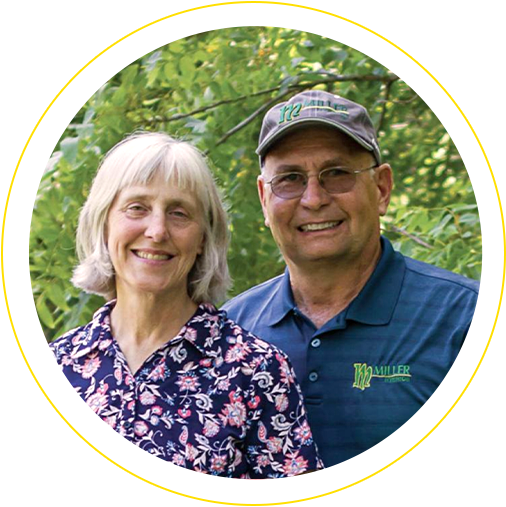 A Few Words About Miller Hybrids
About Us
When you choose to work with Miller Hybrids, you are choosing to work with a small, family owned and operated business. Miller Hybrids takes on the same challenges as the big Ag industry, but focus on pleasing its customers, not shareholders. You are choosing to promote local community growth by keeping your dollars in the Midwest, where your grandchildren will benefit.
Corn
Elite corn hybrids backed by our unique research program.
Soybeans
Wide variety of soybeans & treatment options to fit your farm.
Alfalfa
High-yielding alfalfa with excellent nutritional characteristics.
Other Products
Various cover crops to keep nutrients cycling through your soil.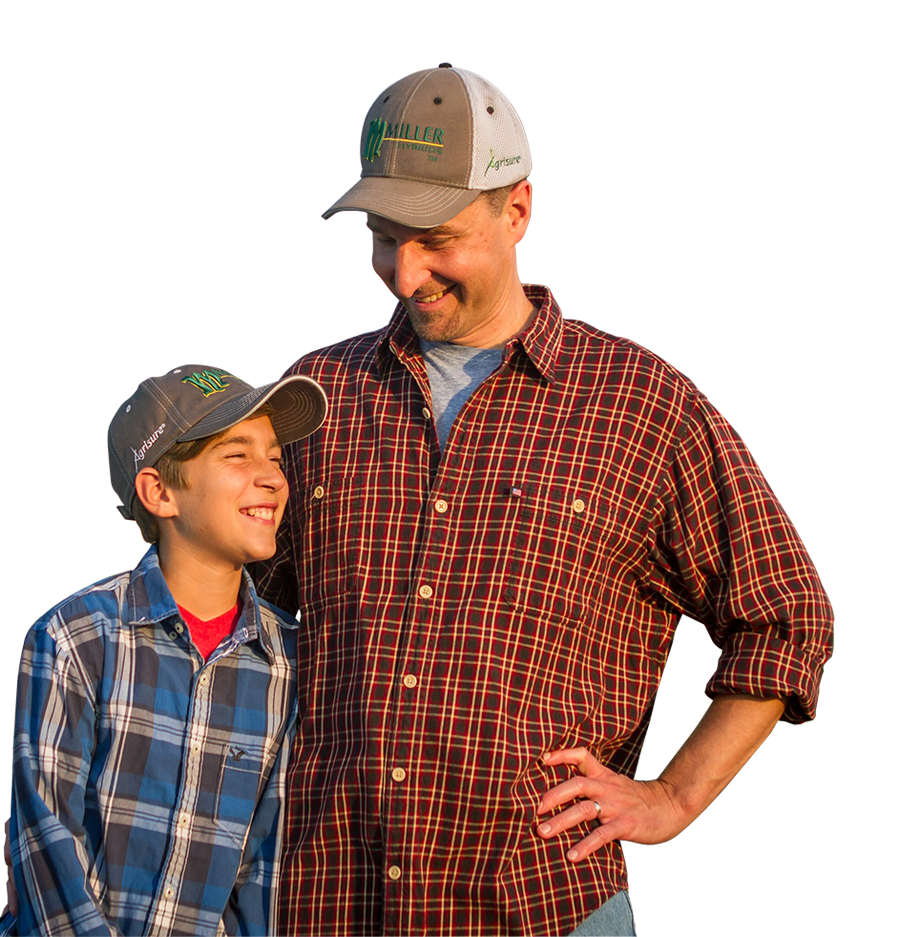 Why Choose
Miller Hybrids?
Innovation

Listening to your needs and providing improved solutions by testing new products in unique and accurate ways is the way forward.

Research

Research at Miller Hybrids is a serious, year-round business. Our research has produced 14 new, unique commercial corn hybrids.

Partnerships

Working together, with your best intrest in mind, is what Miller Hybrids is all about.

Sustainability

The essence of sustainability is helping growers like you become the most profitable and productive farmers you can be, now and in the future.

Commitment

We are committed to working with you, where you are, and getting you the best price we can. Every farmer. Every day.
Latest News
Blog
For those of you on the fence trying to decide whether or not to spray your corn and soybeans with fungicide this year, take a look at the newest information on "Bob's Blog".  Some key benefits can include:  Increased photosynthesis, Improved standability, Better N Utilization and Improved stress tolerance     Click here to learn more…
What Others Are Saying
Testimonials
Jay Markmann

"Being a small producer, I've had excellent success with Miller Hybrids. From picking hybrids to answering any questions you have, Bob and his team treat every customer like you're their largest. I've planted Miller Hybrids corn the last 3 years and my farm averages have been outstanding compared to my previous seed brand, exceeding 230 Bu/acre in 2018 on low CSR sandy ground." 
Andy Anderson

"Although I'm new to Miller Hybrids as a customer, I'm confident that my dealer will continue to provide me and my farming operation with the customer service I have come to expect. I look forward to the knowledge and product information they provide."
Gail Miller

"I buy my seed based on performance, value and the agronomic recommendations from a trustworthy local dealer. My Miller Hybrids products have defined their value on my farm. I'm very impressed with my yields and product performance, and am excited about the new products each year." 
Mike Dobesh

"I planted Miller Hybrids for the first time this year and literally bet my whole farm on it, and I am not sorry I made that choice! Miller Hybrids has exceeded my expectations! I would much rather do business with a smaller company who cares about its customers, than a bigger company who is only worried about their profits. Miller Hybrids has the top-of-the-line latest and greatest products backed by a well-respected plant breeder in the industry."
David Graybill

"I have been all Miller Hybrids since 2010. I like the fact that I can talk to the plant breeder when I have questions about a hybrid for a specific soil type and he also happens to be the owner of the company. Rarely does the operator have those options to gather information."
Leo Smith

"II have compared Miller Hybrids conventional corn and other companies traited corn on my farm for several years and the ROI for conventional corn usually wins."
Keith Gingerich

"Miller Hybrids has strong, healthy corn which I have planted for 15 years and have been very pleased with it's performance."
Tim Holloway

"I've ben working with Pat Groth for 35 years.  He always has my best interests in mind.  I've trusted him and followed with him on his career.  We started with a family owned seed company that was then bought by the big chemical companies.  We are now back to being with an independent, family owned company.  Miller Hybrids is a great match for myself and Pat.  If you help your customer be successful first, company success will follow."
Dan Newell

My Miller Hybrids DSM suggested that I plant RX12-51VT2P this year.  Wow am I glad I did!!  With a harvest yield of 17%, and on ground not considered my best, I am very impressed with everything I see with the hybrid.  I plant seed from a variety of companies, and this RX12-51VT2P will rank very high on yields this year.  I will definitely include it in my choices for next year!
Dave Skubal

We had not planted conventional corn for several years and this year we planted conventional corn from Miller Hybrids in 2021 for the first time. We were very pleased with the performance and price and how it maximized our ROI.  We had a silage field which was outstanding and was estimated by the insurance adjuster at 284 bu/acre.
Michael Ruffcorn

We have been doing business with Miller Hybrids for 7 years. We started with buying double pro corn and Extend soybeans, and have now transitioned to double pro corn, conventional corn and Enlist soybeans. We are incredibly happy with all the products that we have purchased from Miller Hybrids. Seed quality, hybrid performance and customer service are always top notch. It is nice dealing with a family-owned business that cares for the customers. We have had the privilege of getting to know the employees over the years, and we know we can call any of them with questions we have throughout the season. Pat Groth is our district sales manager, and we have known Pat and done business with Pat for close to 40 years.  We have been incredibly happy with Miller Hybrids and are excited to see new
products and research from Miller Hybrids each year.
Ron Brown

I have planted Miller Hybrids for the last several years, and have been very pleased with yields, standability, test weights, and overall plant health. In 2021 we had some record yields on fields planted to Miller Hybrids. Our DSM, Pat Groth is very knowledgeable about corn hybrids, and what will work well on our soil types. I will continue planting Miller Hybrids in the future.